Beyond the Lobby: Meet Daniel Miraval, Hotel Manager, The Garland, Hollywood
Posted by Kate Quaid on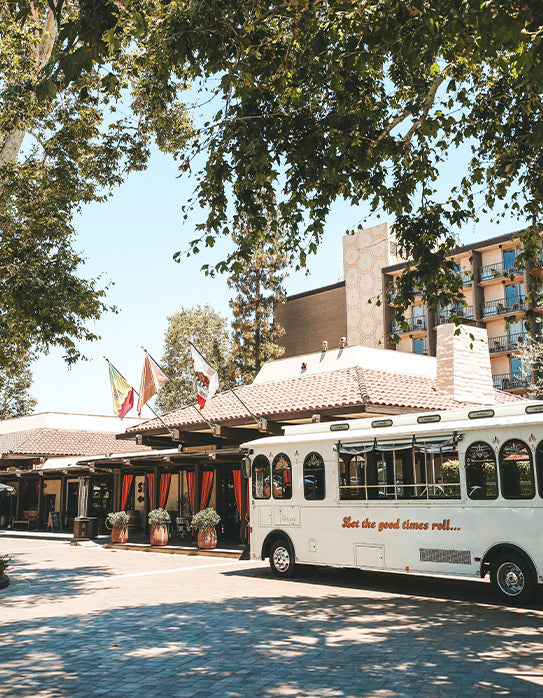 Step with us Beyond the Lobby, on a journey through the heart of hospitality, where we engage with industry leaders and experts. In this series, we'll be discussing remarkable career paths, unique stories behind properties and insights into the exceptional synergy found in collaborating with LATHER.
By sharing these narratives, we aim to inspire and equip you with valuable insights to enhance your guests' experiences, while celebrating the successes of our peers.
This month we chat with Daniel Miraval, Hotel Manager of The Garland, a relaxing oasis in the heart of Hollywood.
LATHER: The Garland recently celebrated its 50-year anniversary, congratulations! 
Daniel: Thanks. We did have many celebrations throughout the whole year. We featured the anniversary at both our Spring and Fall Block Parties. These events are open to the community and feature live music, pop-up shopping, and bites from The Front Yard with some of our favorite California beer and wine tastings. We also celebrated with our Summer Concert Series at Beverly Park and our Pride Month event, Drag Yourself to The Valley. 
LATHER: Thinking back to the start of the hotel, as with many things in Hollywood, it has an interesting celebrity history. Can you tell us more? 
Daniel: The land itself was the start of our celebrity history, as it was purchased from Gene Autry, a singing cowboy and American actor. Beverly Garland was a prominent actress throughout her entire life, which made her name a draw for guests and locals alike once the hotel was built. With Beverly's film and television career, she hosted multiple movie premieres in our own "Garland Theater"- so there was a consistent celebrity presence from the 70''s to the 90's.  After becoming The Garland in 2015 we have continued to host many celebrities. One of our proudest events held at The Garland was the premiere of HGTV show "A Very Brady Renovation" as we are just blocks away from the famous Brady Bunch House.  
LATHER: How has the property evolved in those fifty years?  
Daniel: The property has continued to evolve over the years. From a Howard Johnson to a Holiday Inn and finally to our proudest evolution, "The Garland". I have been part of this journey for the last ten years and I can say that witnessing and being a part of the success of this property has been the opportunity of a lifetime.  
LATHER: It was after the renovation that you partnered with LATHER for amenities. Could you tell us how you discovered the brand and why you felt it was a good fit for The Garland?  
Daniel: At the decision-making time, I had several skincare collections in my office, and we needed something that made sense for this property. As we focus on being an LA, California-centric property, anything that we use at the hotel is ideally based in the local area.  We had options for amenities from Italy, from France, from UK to sample. Then I was visiting a hotel in Las Vegas, and I used a LATHER amenity in the shower. I immediately called one of the managers and asked to have an appointment with LATHER.  I loved the product, and it's from California so it just made sense. Then I did some research and I found out about Emilie and the history of how she started the brand and how she was involved in the hotel industry. I just knew it was a perfect match for us to have LATHER at The Garland.  
This is the first time in so many years I have received more compliments about the bathroom amenities in the hotel than anything else. 
LATHER: You mentioned how you try to use local products, like LATHER, in the hotel. Can you elaborate on how else partnering with LATHER aligns with The Garland's green initiatives? 
Daniel: Yes, we used to have small bathroom amenities from one or two oz. But now a new ordinance [restricting the use of single use products in hotels] changed things for the better. Now we have 12-ounce bottles in the room, attached to the shower. The room attendants have a key that blocks anybody from taking or tampering with them. 
We also have recently added a partnership with Clean the World. They recycle all the bottles and used soaps. We have recycling boxes on all floors and when full we send them to be recycled. It's a way for us to help clean the environment and avoid having so much plastic all over the place. 
LATHER: I'd like to move across to your career in hospitality. What initially drew you to the hotel industry and how has your passion for hospitality evolved throughout your career? 
Daniel: I started at a very, very young age. I was 19 years old and had just finished school. I studied English when I was young and Italian as well. Then I joined a Music Conservatory and studied piano for over 15 years.  I didn't know what my future was when a family friend and Human Resources Director from a very well-known 5-star hotel called me to join his team.   
I went for an interview and within two weeks, I was training. It was the number one hotel in Argentina and for me everything was new. When I started working there, I liked the interaction with the guests coming from all over the world. We have so many celebrities and dignitaries, Presidents, and people from all over the World. I met so many different people that I never thought I could ever meet- like Madonna. The Rolling Stones and U2 to mention a few.  
So, at a very young age I was a Guest Service Agent, doing check-ins and checkouts and taking in room dining orders to the rooms and then doing some deliveries with laundry and housekeeping. That drew my attention and I felt it was amazing how I could learn from so many different cultures and people from all over the world. It was a great start for me. And after that, every year and a half to two years, I've been promoted to different positions.  
And then in 2001 I was offered a transfer to Los Angeles at The Four Seasons Los Angeles, Beverly Hills. And that was amazing for me.  I never thought that I could be picked from other candidates that were interviewed to come to the US as a new Assistant Director of Housekeeping and Laundry at that time. And the development has never stopped. 
I did almost 20 years with Four Seasons and now I've been at The Garland for 10 years. I'm very proud of my change from corporate business and corporate world to this family-owned hotel that I love so much. We see happy guests, happy employees, and at the end of the day, that's my biggest satisfaction. 
LATHER: Congratulations on an amazing career path! What do you think has been the biggest change in hospitality over those years? 
Daniel: I think that now more than ever we need to adapt to what guests like. I traveled a lot and sometimes I don't know if hoteliers know what guests like to experience in a hotel. At The Garland, we have different programs for guests that they can participate in, such as an art walk, or an urban walk in the neighborhood. They can go to yoga classes or stretch class on the weekends. We show movies at the pool and have a chef cooking in a taco cart in the courtyard. We have live music on Thursdays and Fridays in the courtyard for two hours. All of this is complementary to our guests and is what sets us apart from others in the market. People are looking for so much more than just a room to sleep in when they travel now. 
I can see the joy that guests have during their stay because of how we choose to engage with them, and we give them authentic experiences that they probably were not expecting- that makes the stay different. Although we are a city hotel, it feels much more like a resort. 
Are you a hospitality industry leader with a story to share?
We'd love to feature you in our exclusive "Beyond the Lobby" series. Sign up here.