LATHER: The Official Bath and Body Provider of Forbes Travel Guide for 2023
Posted by Team LATHER on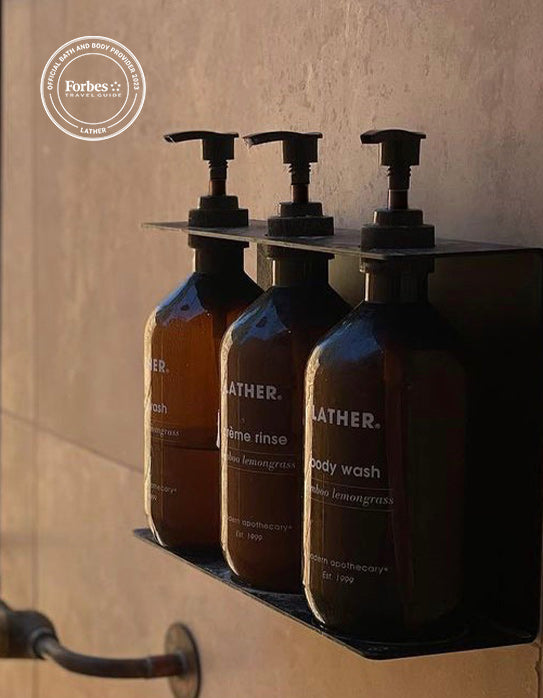 We are thrilled to announce that LATHER has been chosen as a Brand Official by Forbes Travel Guide, the renowned global expert on luxury hospitality. Continuing our role as Forbes Travel Guide's Official Bath and Body Provider for the second consecutive year, we are excited to maintain our position among an exceptional group of Brand Officials carefully selected for their outstanding contributions in their respective industries.

A Recognition of Excellence:
Forbes Travel Guide established the renowned Five-Star rating system in the hospitality industry and is widely recognized for its prestigious annual Star Ratings, evaluating hotels, restaurants, spas, and ocean cruises on a global scale. The organization applies a meticulous approach to each Brand Official, carefully assessing their compatibility with its rigorous standards and their ability to enhance the experience of its Star-Rated properties. The Brand Official program serves as a bridge, connecting these exceptional brands with discerning clientele who seek nothing less than excellence.  
Elevating Luxury Experiences:  
Being selected as the Official Bath and Body Provider by Forbes Travel Guide is a testament to our unwavering commitment to exceptional quality products and the ultimate guest experience.  
"LATHER is a fantastic addition to our 2023 Brand Officials lineup, which has been carefully curated to provide the best products, services and experiences for guests," said Hermann Elger, CEO of Forbes Travel Guide. "LATHER raises the bar in the Bath and Body industry with a focus on providing seasoned travelers with seamless luxury, just like our Star-Rated properties"  
At LATHER, our mission is to provide a transformative guest experience by harnessing the power of nature to create bath and body products that inspire wellness and relaxation.  As the Official Bath and Body Provider of Forbes Travel Guide, LATHER products are showcased in the most prestigious hotels and resorts worldwide, such as Andaz Costa Rica Resort, Hotel Arista, ARIA Sky Suites and many more. Guests can look forward to immersing themselves in our signature collections, indulging in the sumptuous textures, and experiencing the transformative power of our bath and body products during their travels.  

About LATHER: 
At LATHER, we deliver daily wellness experiences. For more than 20 years, we have strived to inspire a healthier, more radiant life. Taking a holistic approach to skin and hair care, we place our focus on creating best-in-class products made with natural ingredients that soothe and rejuvenate both the mind and body.
Through innovative formulations, strict quality control, and seamless distribution, we have steadily grown to become a trusted industry leader. We are proud to partner with many of the most discerning properties around the world to enhance guest experience, drive revenue and create continuity with in-room, spa, and retail solutions.
At LATHER, we are revered for our friendly, trustworthy, and expedient service and our unwavering commitment to traveler wellness. You can be assured that your team and your guests will always be taken care of.
Explore LATHER Hotel collections, guaranteed to elevate your guest experience.