The Ultimate Guide to Body Scrubs
Posted by Team LATHER on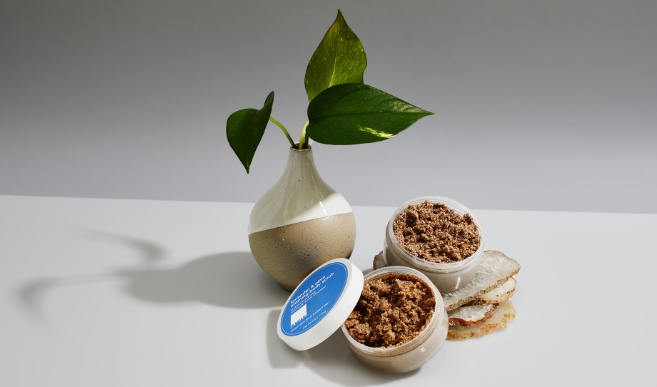 If you've ever wondered what it means to physically exfoliate your skin and why it's so important, we're about to fill you in on all the juicy details. We'll explain what it means, how it benefits your skin, how to do it and where to find the best body scrubs for this important step in your skincare routine.
What is physical exfoliation—and why do it?
Simply put, physical exfoliation is the act of scrubbing the skin with a granular agent like sugar or salt particles, ground shells or jojoba beads. (Note that body exfoliating agents can generally be rougher and coarser; the facial skin requires a more delicate touch.) Chemical exfoliation, on the other hand, uses ingredients that dissolve dead skin cells, such as glycolic acid.
Your skin is constantly regenerating. New skin cells grow from the bottom up and push the dead ones to the surface. As you age, the rate at which your body produces new cells and sheds the old ones begins to slow down. When old cells accumulate on the skin's surface it can leave skin looking dull, dry and flaky. You can help nature along by physically exfoliating your skin to improve its appearance.
Benefits of body exfoliation
Aside from enjoying the scents to calm or uplift your mood, body exfoliation offers the following benefits:
Exfoliating removes dull, dead skin cells by dislodging them from the skin's surface and unveiling the fresh and smooth skin underneath.
It softens the skin. An overaccumulation of dead cells can make skin look and feel dry, so sloughing them away makes skin feel more supple. · Removing dead skin cells from the skin's surface will instantly brighten your skin.
Exfoliation improves overall skin tone and texture. According to board-certified dermatologist Mary P. Lupo, MD, FAAD, exfoliating can even help stimulate collagen production over the long term, which can help your skin look firmer for longer.
It helps your other skincare products perform more effectively—because when that barrier of dead cells is removed from the skin's top layer, body lotions, creams, and serums are able to absorb into the skin more easily and evenly.
How to use a physical body exfoliator
Now that you know about the good things in store for you when you exfoliate your skin, here's the best way to do it.
1. In the shower, apply the scrub to your skin while it's still damp. The warm water will help open pores and loosen dead skin cells so they are easier to remove.
2. Next, gently massage the scrub into your skin using long, slow strokes. Use only light pressure, so you don't cause micro-tears in the skin.
3. Pay special attention to your elbows, knees, and heels. These are the driest areas where the skin is thicker.
Best Body Scrubs
This best-seller body exfoliator is the most powerful of our line of body scrubs. It uses no fillers—just bamboo from India as an exfoliant—and also works as a body wash! It emanates a refreshingly fresh, clean citrus scent to brighten both your spirits t your skin, leaving you feeling soft and smooth.
This tough exfoliating scrub exfoliates with olive seed shells, jojoba beads, walnut shells and bamboo powder while cleaning your skin at the same time. It contains coconut oil and aloe vera to moisturize and soften your skin and features the calming fresh, floral scent of lavender. Perfect for an evening, wind-down bath.
This scrub/body wash exfoliates using coconut and walnut shells as well as jojoba beads. This medium-strength exfoliating scrub contains no fillers, just scrub, and is great for rough elbows, knees and heels. The fruit extracts containing alpha hydroxy acids (these are the chemical exfoliators we talked about) to further help clarify the skin. The sweet, warming scent of coconut makes it the perfect morning shower body scrub pick-me-up.
This scrub uses walnut shell powder and jojoba beads to exfoliate. It's a medium-strength scrub with a crème base, which makes it ideal for dry skin. Ultra moisturizing and soothing, this scrub boasts the luxurious oils of sweet almond, jojoba, avocado, apricot, and sunflower. Indulge in this scrub and warm up with the sweet, nutty aroma of almond.
This scrub is dry skin's best friend. It contains therapeutic oils of sesame, sweet almond, kukui nut and sunflower to moisturize and soothe irritated, dry skin. Its gel base provides mild exfoliation using raw sugar and cranberry seeds. The warming and uplifting scents of orange and cinnamon are a natural pick-me-up for any time of day.
This is the best body scrub for dry, sensitive skin. It uses pure cane sugar to gently exfoliate leaving skin feeling smooth. The oils of safflower, grapeseed, sweet almonds and coconut will leave skin feeling softer and give it a protective layer of moisture. The shea butter will smooth and hydrate your skin. Get energized for the day while indulging in the clean and refreshing citrus-y scent of Yuzu Japanese fruit.
Get your feet ready for warm weather with this scrub formulated especially for the rough, thick skin on your feet. It uses no filler, just the scrub with granulated pumice (volcanic rock) as an exfoliant to leave feet soft and smooth. The eucalyptus oil in this scrub gives it a fresh and clean, earthy scent while the lemon and lavender oils transform feet from tired to refreshed. Use this scrub to prepare your feet for your favorite lotion.
Now that you know all about the importance of exfoliating your skin and the benefits you'll enjoy from doing it, have fun exploring these favorite scrubs and find some just for you. Your skin will thank you.